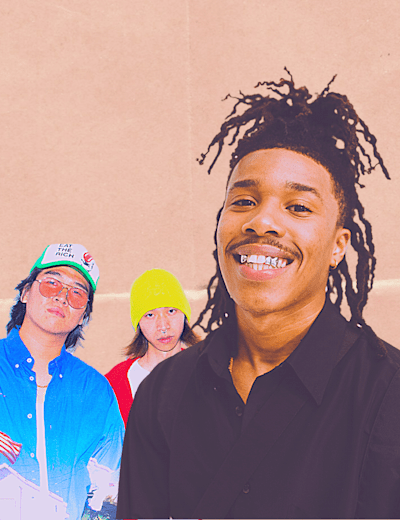 20 Australian rappers blowing up in 2022
© Supplied
Meet the acts changing the face of Aussie hip-hop, rap and R&B.
Australia's hip-hop scene has never looked better. A new generation of artists have broken through, bringing with them politically-conscious rhymes that tackle race, home and heritage in vital ways. Today the local landscape is more diverse than ever before, spanning sounds from drill to dancehall.
So just who are the names leading the charge in 2022? In previous editorials, we've shouted out the established acts running things right now: Genesis Owusu, OneFour, Youngn Lipz, JK47, Bally Boy and more. But with so much bubbling up around the country, today we're turning our attention to the fast-risers who've just broken through -- or are about to.
Some of them are a few years into the game, others just dropped their first single. They're all incredibly talented and each bring something fresh and exciting to the scene. Dive in to get to know rappers who'll be turning heads in 2022 and beyond.
Why they matter:
For proof of how diverse Australia's rap scene is in 2022, see 1300. The Korean-Australian crew from Sydney's West rap mostly in Korean, with a few bars in English sprinkled here and there. Sonically, they combine the swagger of Soundcloud rap with the high-gloss sheen of Korean hip-hop. Even the group's composition feels unique – 1300 is made up of rappers rako, goyo and DALI HART, producer-singer Nerdie, and producer pokari.sweat, who combine their various talents to create music that's truly in a lane of its own. They're unlike anything else out there right now and just so damn good.
What to watch:
The big budget video for their new single Oldboy, which tips its hat to the classic Korean horror flick of the same name.
Why they matter
: She's only two singles in, but Mulalo has earned her place as one of Australia's most exciting new hip-hop acts. First came 'Check', her ice cold 2020 debut. She followed that up last year with the Nerve-produced 'M31 (Racing Down the Hume)', a home run that was unapologetic about her confidence, her sexuality and her talent.
Already in 2022, the Melbourne-based talent has popped up to steal the show with a commanding guest verse on Triple One's new single. Mulalo's socials have gone quiet for now, but our fingers are crossed she'll be back with new music soon.
What to watch
: Triple One's 'Mr. Whippy', to see Mulalo in action.
Hometown
: Sydney via Trinidad
Why
they
matter
: We first met Gold Fang when he collaborated with Big Skeez on Where Yuh From, a track that instantly became one of 2021's best. It was the perfect introduction to the charisma and Caribbean lilt of the now-Sydney based artist, who moved here from Trinidad as a teenager. The NLV Records-signee came back with a slice of reggae perfection in December when he dropped Light It, another guaranteed mood-lifter. The charm just radiates.
What to watch:
The instant dopamine hit that is Where Yuh From.
Why they matter
: Last year, Nooky landed something big:
his own triple j show
. Every Sunday on Blak Out, the Yuin man plays an hour of Australia's best new and old Indigenous music.
But it's not just in the hosting seat that Nooky is killing it. His new gig follows a prolific few years in the booth, making music that tackles big issues like Indigenous deaths in custody as skillfully as it pays loving homage to his South Coast hometown of Nowra.
The Bad Apples signee has already started 2022 strong with the new single Run Dingo and the launch of
We Are Warriors
, a new platform dedicated to celebrating Blak excellence and empowering Indigenous youth. We think it's just the beginning of what is sure to be a very big year.
What to watch:
The powerful new single Run Dingo.
Hometown:
Adelaide via Kenya
Why they matter
: Elsy Wameyo's new single Nilotic is the sort of music that stops you in your tracks. Raw, elegant and powerful, it's a self-assured statement of identity that explores race, community and culture. Niloctic's hard-edged approach also marks a turning point for Wameyo, who previously made softer, more soulful music. If this is a sign of where she's taking things in 2022, we're very here for it.
What to watch
: Nilotic, which comes with an incredible music video.
Why they matter
: When Nokz started rapping, it was alongside his older brother at home in Forest Lake, a suburb in the outer southwest of Brisbane. Together, they spat bars about "what we thought love was as a 12-year-old" into a $2 headset from Crazy Clark's, a mattress pushed up next to the wall to keep the sound out.
It wasn't until 2020 that the now 25-year-old stepped into a real studio, motivated by the drive to provide for his family. But once he did, things immediately took off for Nokz: he made waves with tracks like Chat and Into Drinking and in 2021 stepped up for a killer Red Bull 64 Bars.
Now signed to his mate Lisi's new imprint Castille Records, things are only poised to get bigger from here. In a short amount of time, Nokz has come a long way from the $2 headset in the garage.
What to watch:
Nokz's Red Bull 64 Bars, to see his raw talent on display.

3 min
Nokz78 Red Bull 64 Bars
The Queensland rapper isn't in it for the fame -- he does it for his family, his community and the people of Forest Lake.
Why they matter
: Babyface Mal began turning heads last year when he signed with 66 Records, the Melbourne-based, African-owned label also home to acts like ECO$YSTEM.
The 22-year-old came out firing with five singles in as many months, including a collaboration with Brisbane favourite Nerve. He's keeping that work ethic up in 2022, starting the year strong with a three track EP called The Crib. It's another hit of trademark effortlessly cool, half-slurred delivery – the kind of flow you don't forget.
What
to watch
: Smog, the lead single from his new EP.
Why
they
matter
: We've shouted out Barkaa in previous years of this round-up, but she's earned her place again for 2022. After starting her music career strong in 2020 with the powerful debut single For My Tittas, Barkaa came back last year to drop a pair of attention-demanding tracks: King Brown and Blak Matriarchy. With this much talent and Briggs' label Bad Apples on her side, there's no limit to how high she can take this thing.
What to watch
: The incredible new single Blak Matriarchy.
Why
they
matter
: A.Girl began her career as a vocalist but over the past year, the Sydney talent has proven she might be even better as a rapper.
2021 saw A.Girl – AKA Hinenui-Terangi Tairua, or just Angel – drop two fiery rap tracks, each with a big message. First came Vision, her track for Red Bull 64 Bars, which saw A.Girl
call for unity in the Western Sydney hip-hop scene
. Next she came back with We Them Boyz, a drill track that
challenged the idea
of what it means to be "one of the boys".
After rounding out the year with an appearance on Sydney Yungins track Ride or Die, we can't wait to see where she takes things in 2022. Team A.Girl forever.
What
to
watch
: The incendiary Red Bull 64 Bars that got Sydney talking.
Hometown
: Sydney via Ghana
Why
they
matter
: Blessed isn't a newcomer – but he is ready to step up and claim the spotlight he deserves. The Ghanaian-born, Blacktown-based talent scored a major label deal when he was still in his teens, beginning his career under the moniker Miracle. He came out the other side as a prolific creator who had learned to produce, mix, master, sing and play guitar just as well as he can rap.
Blessed then spent years working with Sydney's best young artists, even producing The Kid Laroi's breakout track Blessings in 2019. This year, with all of that wisdom and experience under his belt, Blessed returned to share the single No Changes – an urgent work that tackles race, identity and belonging. We think he will be one of the year's most important artists.
What
to
watch
: No Changes, Blessed's reimagining of the Tupac classic.
Why
they
matter
: Bowraville-bred rapper Tasman Keith has had some big wins over the past few years. He's dropped a killer Red Bull 64 Bars, an assured EP in To Whom It May Concern, and even supported the legendary Midnight Oil on tour. In 2022, he's set to take things even higher with the release of his debut album. After everything we've seen from Tasman so far, we've no doubt the LP is going to cement his position as one of Australia's most important rappers. It might just go all the way to the ARIAs.
What
to
watch
: Tasman's blistering Red Bull 64 Bars.
Why
they
matter
: Mason Dane had a huge breakthrough hit in 2021 with Dash, a tune so undeniable it even
got a shout out
from T-Pain. That high-profile nod helped Dane rack up a million streams on the track between YouTube and Spotify and reel in a stack of new listeners. He's used the momentum to get big on TikTok, where he finds
funny ways
to promote catchy, emotional rap tracks like 2022's Pretty Pearl. With the talent and the internet savvy, we think he might just have the makings of Australia's next big thing.
What
to
watch
: Dash, the track that started it all.
Hometown
: Melbourne via South Sudan
Why
they
matter
: Pookie's 2020 debut single Tuesday remains one of the coolest slices of local hip-hop we've ever heard. A couple years down the track, Pookie – AKA South Sudan-born, Melbourne-based Achol Agaar – has only gone from strength to strength. She had a busy year in 2021 with the release of the single Beast Mode, her Dinka Girl EP and the 11-track album Flick, an incredible body of work that tackled both the political and the personal. So much talent, so much steeze and so much to say.
What
to
watch
: Her feature slot on triple j's Rap It Up, which is the perfect introduction to Pookie's sound and story.
Why
they
matter
: You already know both halves of Fly Boy Jack. Melbourne MC Jordan Dennis and beatmaker JUJO are respected solo artists, each with a good few years in the game under their belt. Last year, the pair came together to launch a collaborative project that would combine their sizeable talents. As Fly Boy Jack, Jordan Dennis and JUJO have created an intoxicatingly cool mix of hip-hop, punk and R&B. They're only one mixtape deep so far but we can't wait to see where they take things next.
What
to
watch
: Weed Walk, the perfect introduction to Fly Boy Jack's low slung energy.
Why
they
matter
: He's only one track deep, but oh what an impact it's made. Juice Armani racked up over 10 million streams last year with the mumble rap hit 'Offended', a debut single reminiscent of Young Thug. The track now has Boogie Wit Da Hoodie on a remix and has travelled internationally, setting Juice up as an artist who could make it big both here and abroad. We don't know much else about the man yet, but we know that he's very, very good.
What
to
watch
: Offended, of course.
Why
they
matter
: Ijale turned all the right heads last year with his mixtape, OTTN (On To The Next). That 18-track release drew from Afrobeat, drill, R&B, soul and funk to create a soundscape you could really sink into, with each track anchored by Ijale's smooth vocals.
But it was his sharp, insightful lyrics about what it means to be a black man in Australia that really made OTTN unforgettable. With an overabundance of brains, talent and vision, we're tipping big things for the Nigerian-born, Melbourne-based artist.
What
to
watch
: The tour-de-force that is Don't Run, from Ijale's OTTN mixtape.
Why
they
matter
: Australia first met Unamii in 2020 as part of Brisbane-based collective Swish Music. In a crew of 12 rappers, hailing variously from the likes of South Sudan, Zimbabwe and Uganda, Unamii was the sole female member. But that wasn't what really made her stand out -- on the track 'Showtime' she stole the show with her sharp and witty lyrics, immediately marking herself as one to watch.
What
to
watch
: Unamii's Red Bull 64 Bars, which she hit out of the park in 2021.

3 min
Unamii Red Bull 64 Bars
The Swish Music member has stepped up to deliver a powerful Red Bull 64 Bars.
Why they matter
: Rap, honeyed vocals and spoken word poetry all come together in the music of Nardean. The Sydney-based multi-talent has a truly convention-breaking approach to music, drawing from neo-soul, electronica, glitch and R&B to create a style she calls "post-hop". Nardean gave us a trio of excellent singles in 2021 – Trust, The Come Down and Westside – and we can't wait to see what she does in 2022.
What to watch
: Westside, Nardean's cool and catchy love letter to Western Sydney.
Hometown
: Brisbane via Zimbabwe
But to start 2022 strong he's nabbed a couple of big collaborations, working with Mason Dane on Pretty Pearl and appearing on the forthcoming Blessed album. Pair his rising profile with the strength of recent singles like Over Sex and Entirely Broke and we think Baby Prince could be set for a star-making year.
What
to
watch
: The two minute sucker punch that is Entirely Broke.
Why
they
matter
: The mighty Sydney drill scene has another serious contender in Skenzo. The Liverpool talent dropped two big tracks in 2021: the debut single Dangerous, and Dat Side, a song that stood up for his Western Sydney neighbourhood. He followed that one-two punch up in 2022 with the single Zoom, another hit of tough-as-nails track that puts Skenzo's talent front and centre.
What
to
watch
: Dat Side, for a crash course in what Skenzo's all about.