What's inside
Red Bull Sugarfree Ingredients
The formula of Red Bull Energy Drink contains a unique combination of high-quality ingredients.
Caffeine
Caffeine was widely used by ancient civilisations. It was traditionally consumed from natural sources like tea, coffee, cacao beans and cola nuts and appreciated for its stimulating effects on the human body
Caffeine is naturally present in more than 60 plants and is contained in many foodstuffs such as coffee, tea and chocolate.
Whether present in natural sources or in Red Bull Energy Drink your body processes caffeine the same way.
One of caffeine's primary sites of action in the human body is a stimulating effect on cognitive functions.
One 8.4 fl. oz. can of Red Bull Energy Drink contains 80 mg of caffeine.
Did you know?
The 80 mg of caffeine contained in one 8.4 fl. oz. can of Red Bull Energy Drink is about the same amount as in a cup of home brewed coffee.
Red Bull Energy Drink

80 mg

per 8.4 FL OZ
Home-Brewed Coffee

~95 mg

8 fl oz
Source: USDA National Nutrient Database for Standard References
B-group vitamins
Red Bull contains Vitamin B6, B12, Niacin and Pantothenic acid.
There are two types of vitamins: fat soluble and water soluble. Red Bull contains water-soluble vitamins. Water-soluble vitamins do not get stored as much in the body as fat-soluble vitamins. Instead, they circulate through the blood plasma. Whatever the body does not use is released. Red Bull contains the water-soluble B-group vitamins niacin (vitamin B3), pantothenic acid (vitamin B5), vitamin B6 and vitamin B12.
Taurine
Taurine is an amino acid, naturally occurring in the human body and present in the daily diet.
Taurine is found in high concentrations in muscle, brain, heart and blood. A person weighing ~154 Ibs has approximately 70 g of taurine distributed throughout their body. Put another way, a ~154 Ibs person naturally already has in their body 70 times the amount of taurine contained in one can of Red Bull Energy Drink.
Taurine is also contained in various foodstuffs like scallops, fish, poultry and most infant formulas.
Did you know?
The human body contains 70 times more taurine than one 8.4 fl oz can of Red Bull.
Source: USDA National Nutrient Database for Standard References
Aspartame & Acesulfame-Potassium
Acesulfame-Potassium is a non-caloric sweetener. It is used worldwide in over a thousand different products including foods and drinks like chewing gum, dairy products, baked goods, etc.
Aspartame is a low-calorie sweetener that is produced synthetically. It is used worldwide in over 5,000 different products (such as soft drinks, yogurts, candy, chewing gum, etc.).
Both, Aspartame and Acesulfame-Potassium, have an excellent safety profile. Numerous scientific studies demonstrate that these substances are safe for use as sweetening ingredients.
The safety of these sweeteners has been evaluated by regulatory bodies all over the world (e.g. FDA in the US). Health Authorities rely on the safety evaluations of independent scientific advisory bodies such as the European Food Safety Authority (EFSA), the United States Food and Drug Administration (FDA), and the Joint FAO/WHO Expert Committee on Food Additives (JECFA).
Water
Water is a main ingredient of Red Bull, and our production sites always ensure high standards of quality are applied to our water source.
From the World of Red Bull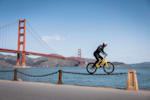 Mountain Bike
Danny MacAskill reveals the inside story of Postcard from San Francisco
Read Story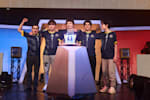 Esports
Northwood University crowned Red Bull Campus Clutch USA 2022 champion
Read Story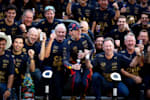 F1
Oracle Red Bull Racing are the F1 constructors' champions
Read Story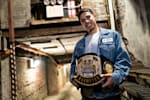 Breaking
India and Victor are the Red Bull BC One 2022 champions
Read Story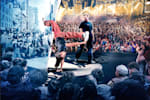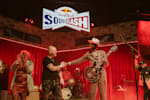 Music
Texas icons Gary Clark Jr. and Paul Wall bridge the Austin to Houston gap
Read Story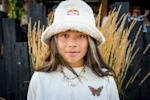 Snowboarding
'About Time': An inside look at 'Fleeting Time' with Hailey Langland
Read Story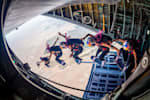 Skateboarding
Leticia Bufoni takes to the air to grind a rail in the sky
Read Story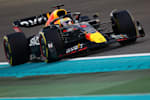 F1
Max Verstappen scores Abu Dhabi hat-trick at final Grand Prix of the season
Read Story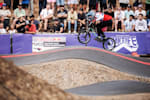 BMX
Find out who bossed the Red Bull UCI Pump Track World Championship Final
Read Story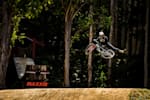 Mountain Bike
Replay everything that happened at Crankworx Rotorua
View Event Info